Mirror TVs
Mirror TVs
TV in Mirror or Magic Mirror TVs are getting more and more popular due to its luxury design and mirror functionality. When the screen is off – you just have a regular mirror, your tv is vanished out of the mirror when it's on – it's a TV.
WATERPROOF
TV
WATERPROOF
REMOTE
CONTROL
VIBRATION
SPEAKERS
SMART TV

EASY TO
WASH
FULL HD IPS
LED
DIGITAL TV
SYSTEM
2 YEAR
WARRANTY
OUR PARTNERS




How does it work?
Magic Mirror effect is provided by semi-transparent mirror glass that reflects the light when the screen is off but transmits the light of the screen when it's on. For good tv mirrors performance, there should be the right balance of reflective and transmitting rate. When we increase transparency of the glass we get better TV performance (better image) but worse mirror performance (worse reflection and some internal elements behind the glass can be seen), so the semi-transparent mirror is one key important aspect. Another key important aspect is the LCD/LED panel. Original brightness of the screen is reduced by semi-transparent mirror by 30-60% so the screens for Mirror TVs should have the higher brightness to compare with regular consumer monitors to compensate this reduce. Contrast and colors are also distorted by the mirror that's why it's not easy technically to find the right combination (magic mirror + LCD/LED panel) and it's also more expansive than regular TV models.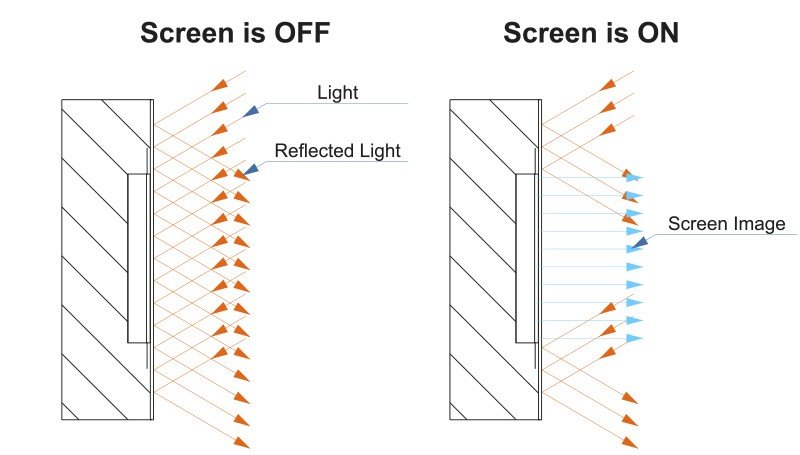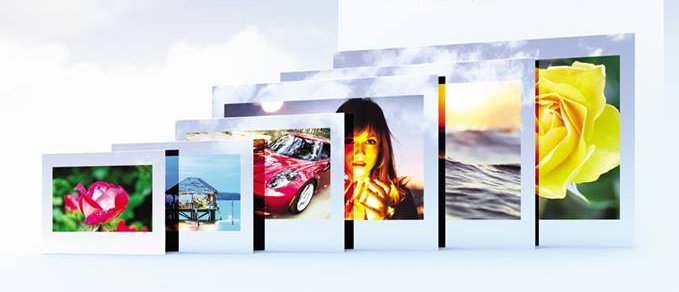 Choose your size and brightness
We know a lot about this "balance" and now we use different mirror type and different LCD/LED panels for each size for better real performance.
At present beside standard brightness panels we also supply ultra-high brightness panels for special projects (or just optionally by customer's request). Panels with 700 / 800 / 1000 cd/m2 are available in 27" – 75" size range optionally. If you are interested in high brightness screen – we will be glad to get your inquiry and let you know the possible options for your project.
AVEL Mirror TV has Full HD (1920x1080) resolution for 23.8", 27", 32" size screen. All bigger models (43", 49", 55", 65" and 75") are UHD (Ultra-HD) 4K resolution in 2020. A premium product like our TV shall have premium performance that can only be achieved by using high quality and brand-new technology parts. We always make sure we get the best available panels in the market since it's one of the main parts of any TV.
AVEL Waterproof Mirror TVs
The only visible surface of a Mirror TV when it's off is a front mirror glass. And of course, it must be even, has good optical reflectance performance (bright silver mirror) and keep that good looking for many years. We keep these issues in mind when make our Mirror TVs.
We only use real glass and not acrylic used for our Mirror TVs. So, you can be sure it will keep perfect appearance for years.
After trying many types of semi-transparent mirrors, we found really bright silver coated mirror that has the best optical performance both for reflectance in transmittance with the ration of 60/40 approximately. For safety concern we only use tempered safety glass for our standard Mirror TVs, and we provide full 2 Year Warranty as a confidence in the product quality.
Our vanishing Mirror TVs are perfectly fit any bathroom's interior. You get real glass mirror with all the functions of modern TV.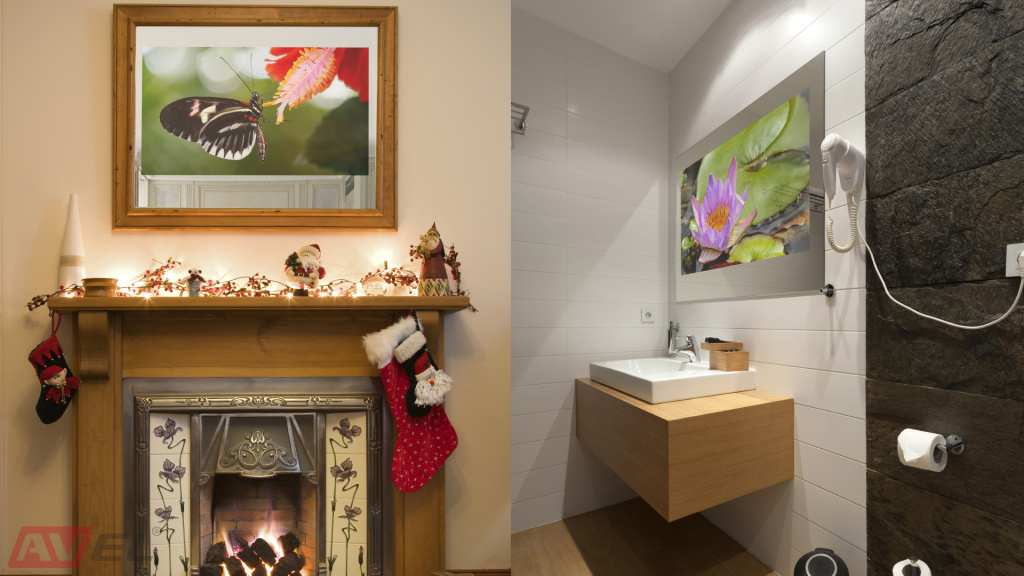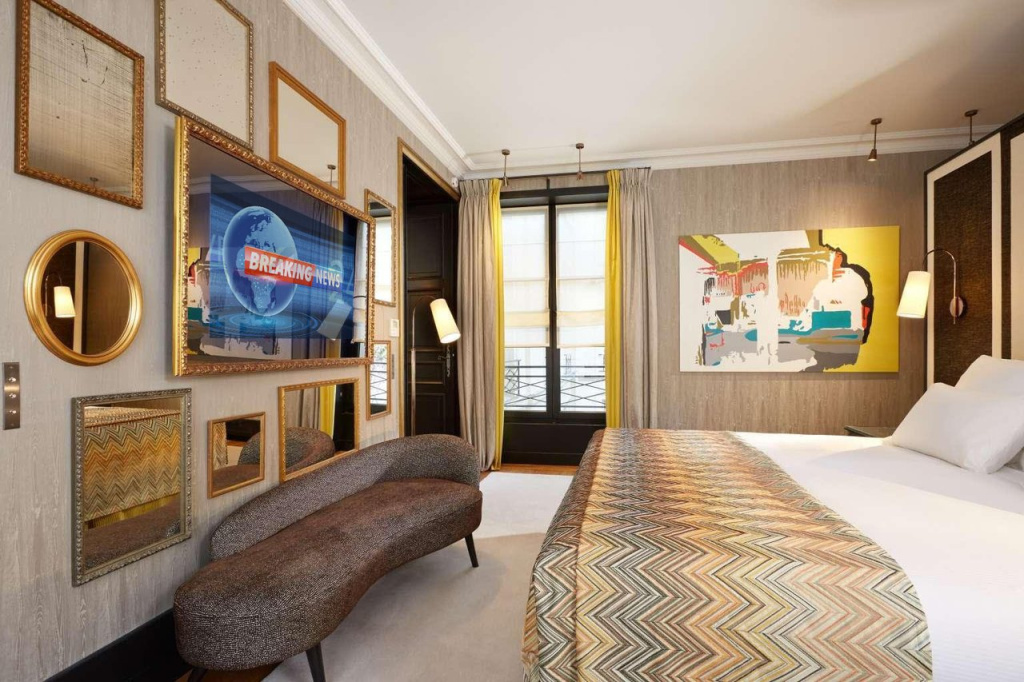 Vibration speakers
Another important parameter of any TV is the sound. Mirror TV sound is something special. No one wants to have a cut or a whole in the mirror surface and the speakers shall be hidden but still provide powerful and high-quality sound. We solved this tricky issue by using vibration (resonance) speakers. They are fixed to the mirror inner surface (inside the TV) and transfer the sound through the glass by shaking it. The speakers itself are quite heavy and our TV board has powerful amplifier to achieve high sound level. This way we also achieved good bass level (unlike the sound of any compact speakers). What was solved during the vibro-speakers adaptation for each model and each size is resonance frequencies. We have applied a special testing procedure to cut that resonance frequencies and make sure the sound will be clear in the full range.
Can I put the TV behind my own bathroom mirror?
Certainly, you can try to make a DIY TV behind the mirror, despite the many difficulties that will arise in the process, and the disadvantages of the ready-made solution. However, we advise using professional services and buy a special TV which will be installed based on the individual characteristics of the room and the customer's preferences.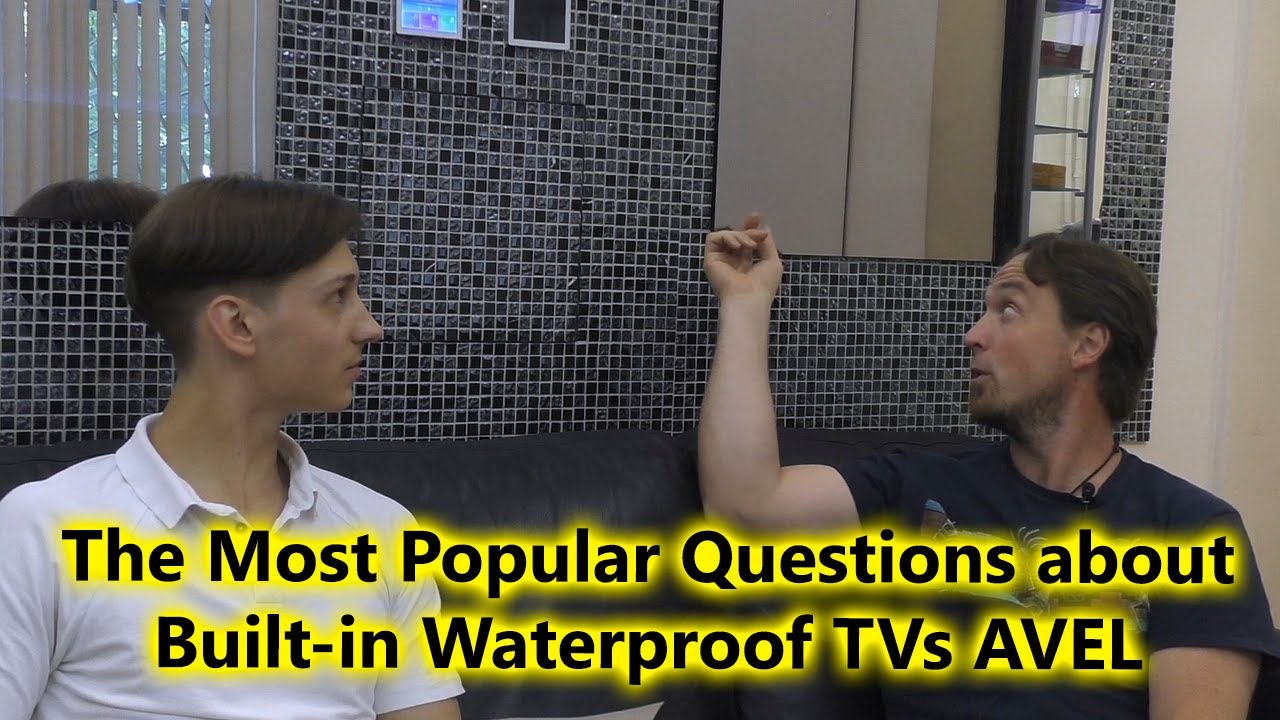 How to Hide TV Wires
Following real demands of our clients and customers we at AVEL keep developing in-wall TV series dedicated not only for Bathrooms but also for Living rooms and Bedrooms.
The greatest and unique benefit of our In-Wall series is completely recessed installation. All you have after the setup is done – is a plain glass or mirror on the wall. No wires, no gaps to gather dust.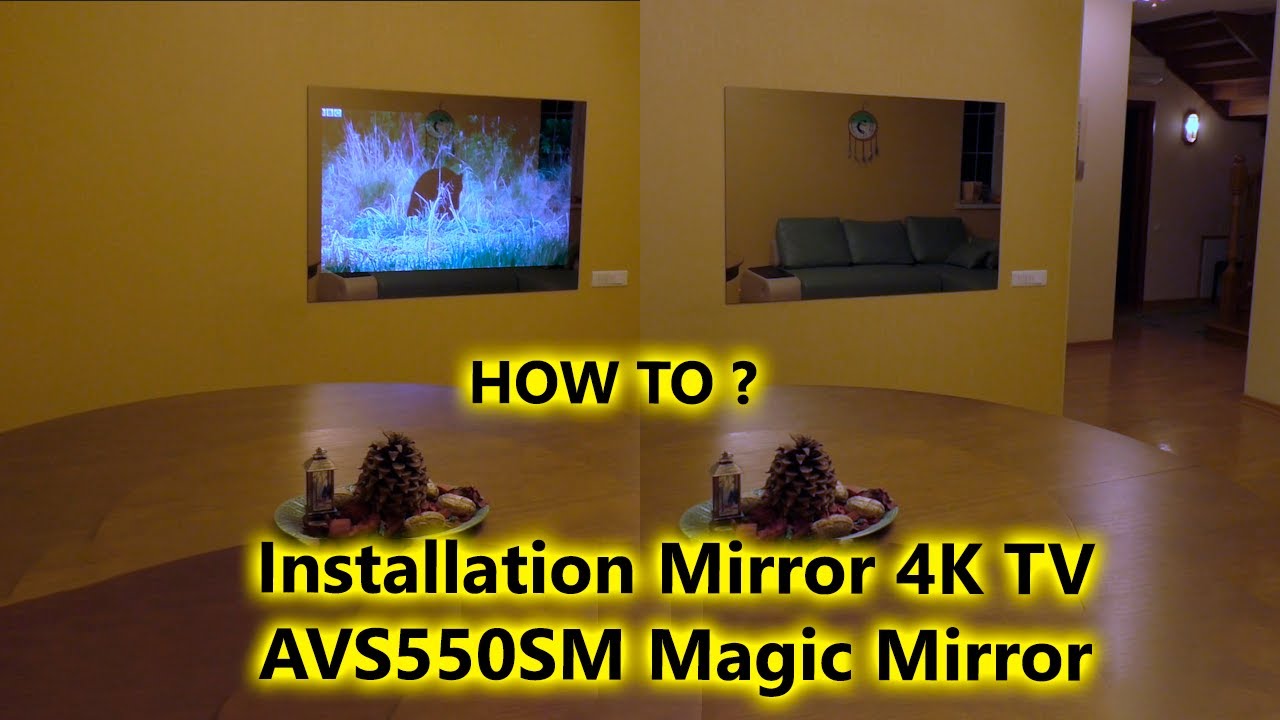 Waterproof TVs
AVEL Bathroom Mirror TVs have passed IPx4 test as a proof of it's dust and waterproof grade and they can be used in wet areas like Bathroom, Pool, Jacuzzi etc. For your convenience, we equip our TVs with waterproof IR remote control (IP66 grade) by default.