Bathroom TVs
Bathroom TVs
We produce our Bathroom TVs since 2012 and sell it worldwide. Gathering feedbacks from our customers and partners we keep developing and improving our products to guarantee the best performance, quality and best price. Our main series is Magic Mirror TVs and Waterproof White/Black Frame Screen Finish TVs for Bathroom.
WATERPROOF
TV
WATERPROOF
REMOTE
CONTROL
VIBRATION
SPEAKERS
SMART TV

EASY TO
WASH
FULL HD IPS
LED
DIGITAL TV
SYSTEM
2 YEAR
WARRANTY
OUR PARTNERS




Next Generation of Bathroom TV with Freeview Are you ready to relax in your bath or shower?
Enjoy unlimited entertainment with a smart bathroom TV with Freeview! Take a look at our comprehensive selection of waterproof TVs with a built in Freeview Tuner, suitable for using in the bathroom, sauna room, shower room, swimming pool, and other areas with constant high humidity. Each of them offers superb picture quality, modern design, and great ease of use. Being completely water-resistant with IPX5 waterproof grade, they come with all the advanced features and functions you would expect, plus a whole lot more! With LCD screens that can be used as a mirror while you are not watching sport, news, or any other program, our bathroom TVs with Freeview are a fantastic option for any budget. We have a full range of designs and sizes to match your needs and requirements, from a high- quality yet affordable 19'' bathroom TV with Freeview to our favorite premium 32'' model, each with tempered safety glass and integrated vibration speakers. Have a good shopping experience!
IN-WALL WATERPROOF TELEVISIONS FOR BATHROOM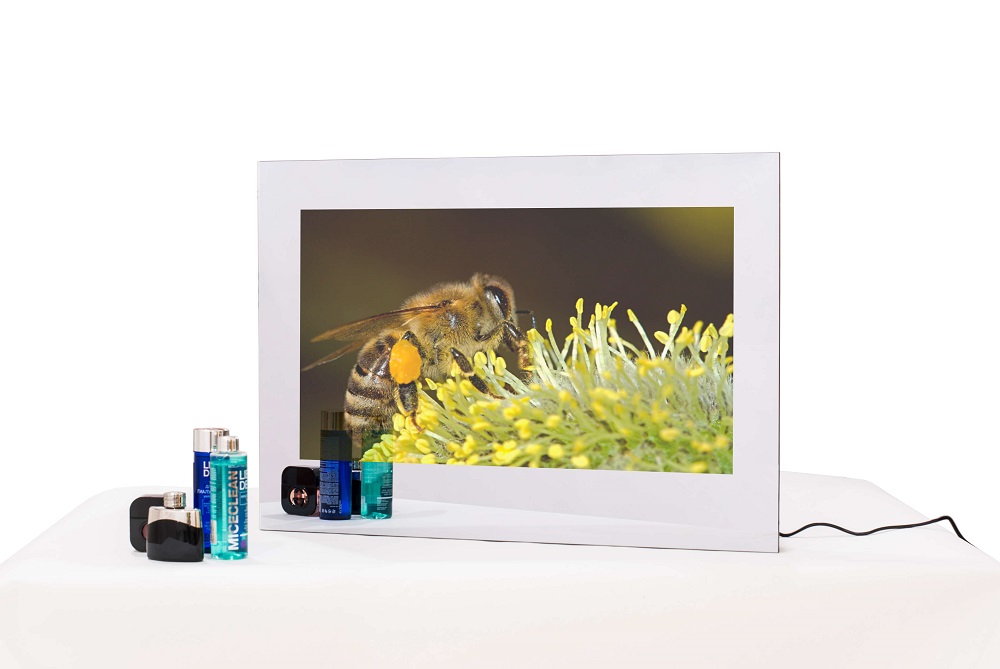 TV behind mirror
In addition to traditional TVs with a frame, we release TVs in mirror.

Magic Mirror Screen Finish is a special semi-transparent mirror that provides amazing effect: it's just a plain mirror when the TV is off and a modern full functional TV when the screen is on. This is also a great benefit for design - real mirror is always great in any bathroom and no worries about "how to hide the TV" and "whether it fits my bathroom design".
Choose your size
Magic Mirror TVs and Waterproof White Frame Screen Finish TVs is available with the following sizes: 23.8", 27", 32", 43", 55", 65" and 75".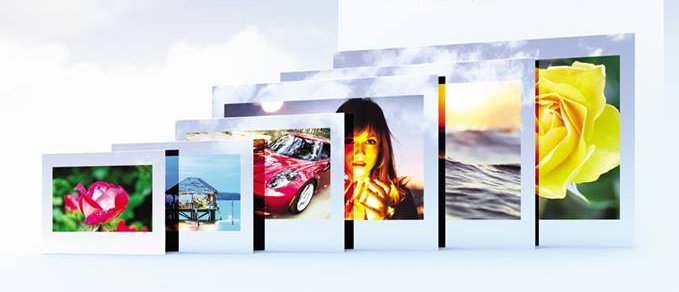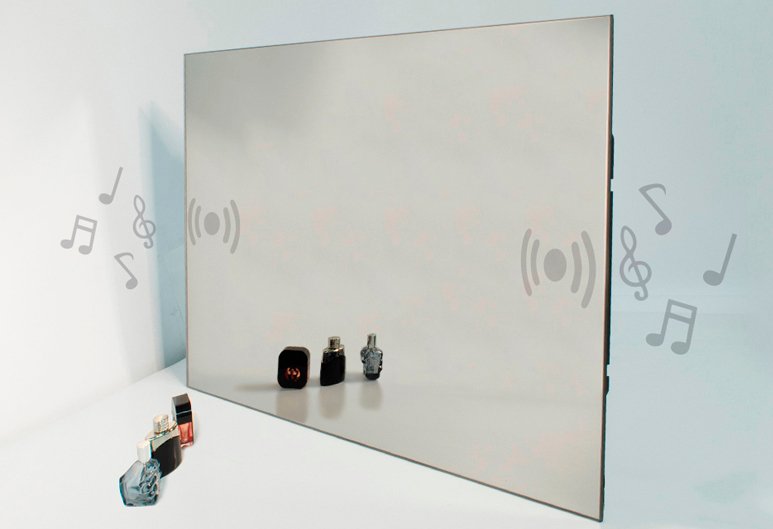 Unique vibration integrated speaker
All series have invisible vibration speakers. They are fixed inside the TV on the inner glass (mirror) surface and generate the sound by making the glass itself shaking. We believe you will enjoy this feature a lot, new TVs are more easily to clean (no holes for speakers) and sound (middle and bass range) is quality better!
How do I protect my TV in the bathroom?
Сonventional models of TVs are not suitable for installation in the bathroom, because they do not have a specific level of moisture protection and the contacts on the boards may short out. But this problem has two solutions. The first option: installing a waterproof TV, which is specially designed for such accommodations. The second option: water-resistant TV enclosure, which will protect almost any model of TV. If you find it difficult to choose, you can learn more about the advantages and disadvantages of these methods by following this link.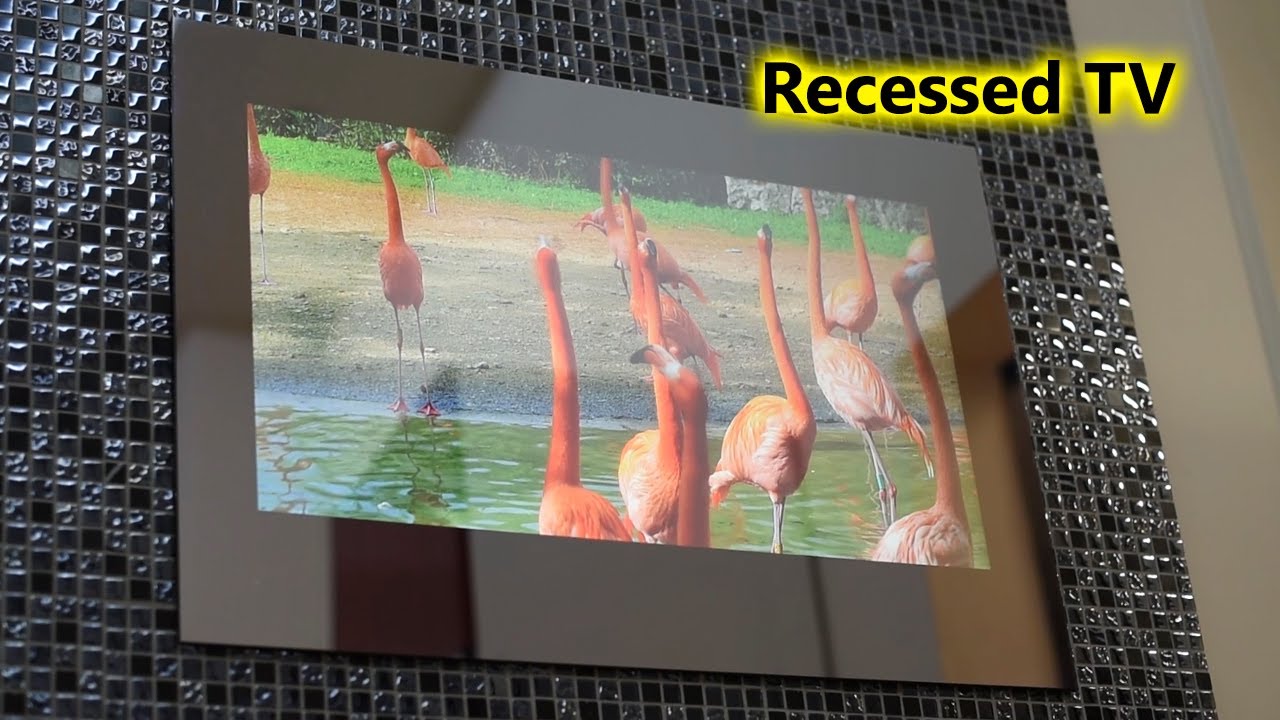 Water-resistant IPx4
Our Bathroom TVs passed IPx4 (waterproof test) and also have CE and ROHS EU standard certification to confirm that it can be safely used in most area and comply with European standards and requirements to TVs and consumer electronics.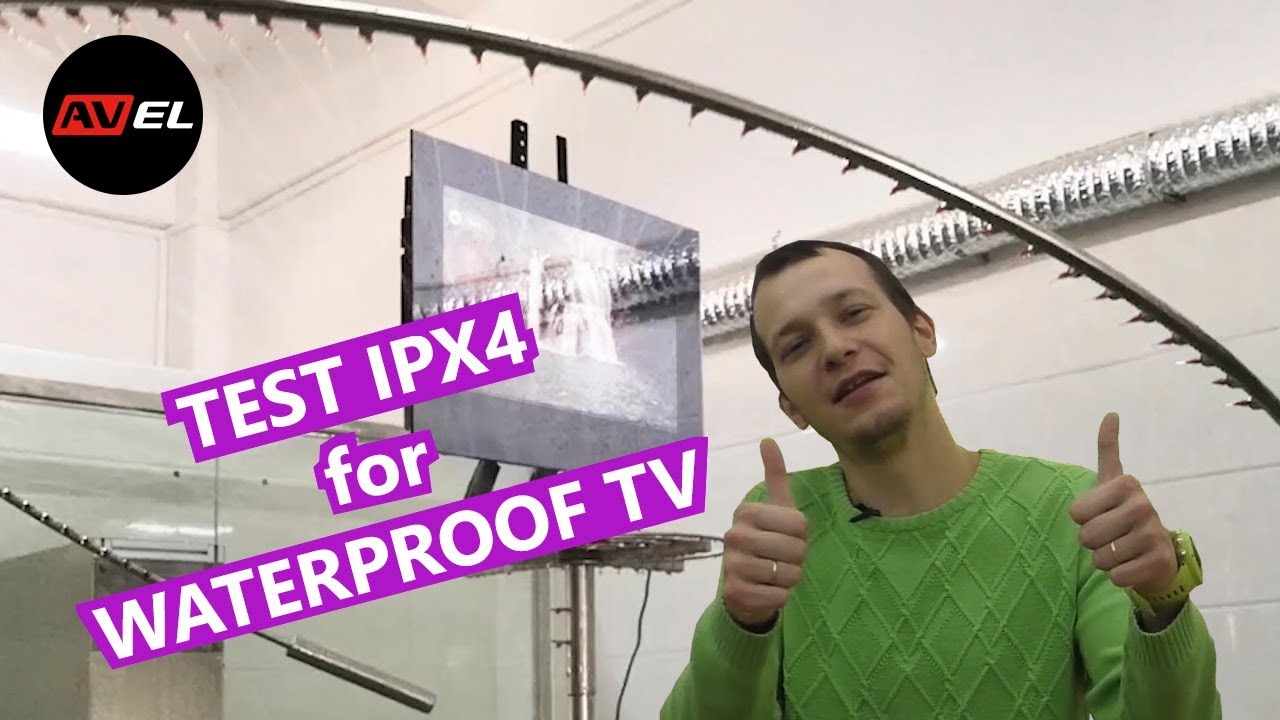 Easy to install: No wires, no gaps to gather dust
We supply Bathroom TVs with back box and it's installed into opening in the wall first. After that the TV is inserted into the black box and sealed. Finally you get a very nice installation and TV front looks just like a slim glass.
One important advantage of out Bathroom TVs is that it has detachable back panel for easy service. Most of other models in the market has sealed case so there is actually no way to open it when something goes wrong. We have improved our case and developed waterproof detachable back panel that can be opened and closed by customer without having special tools or knowledge.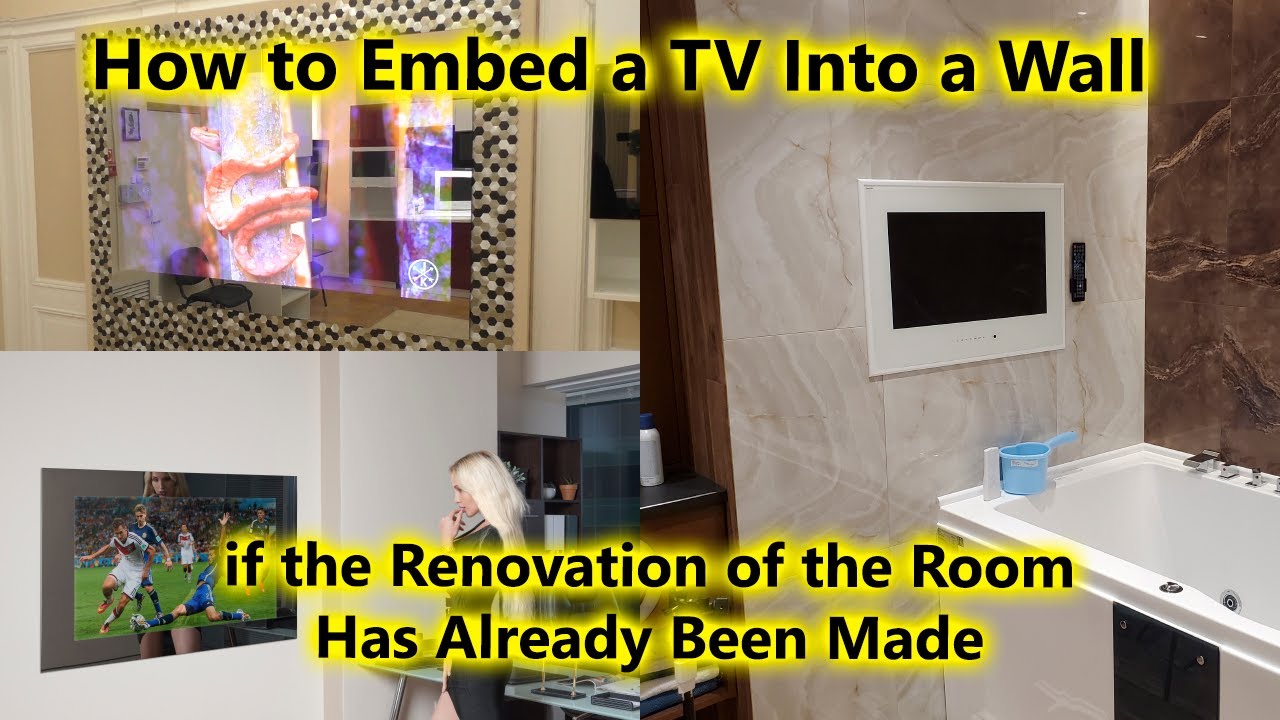 How to Hide TV Wires
Following real demands of our clients and customers we at AVEL keep developing in-wall TV series dedicated not only for Bathrooms but also for Living rooms and Bedrooms.
The greatest and unique benefit of our In-Wall series is completely recessed installation. All you have after the setup is done – is a plain glass or mirror on the wall. No wires, no gaps to gather dust.