Translate:





What is Mirror TV and how does it work?
It's really amazing, when we see a regular Mirror that suddenly turns to a TV with a screen in the middle. And it's great to have full mirror surface when you don't need a TV.
This TV type is also called Magic Mirror TV and getting popular in different areas: luxury living room interior, bathrooms, kitchens, pools etc.
So we'd like to describe most important technical issues and details in the article as an experienced manufacturer of this product type and hope You find in it helpful.
What is tv in the mirror and how does it work? In this article we will tell in details about specific technology and terms commonly used to describe TVs that looks like a mirror and commonly called Mirror TVs, Magic Mirrors or Vanishing TVs.
1. WHAT IS MIRROR TV?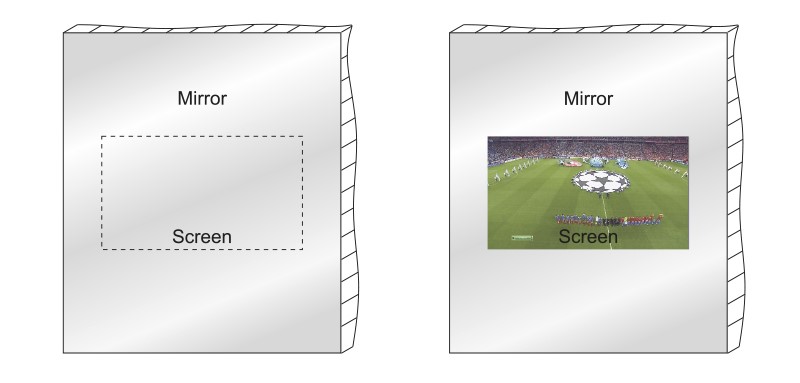 People call Mirror TV a screen placed behind semi-transparent mirror. It looks just like a plain mirror when the screen is off and the screen is see when it's on. Due to this disappearing feature it's also called Magic Mirror TV often. For the TV size (screen size) most of models available in the market are from 15 inch to 55 inch. And for the design (structure) there are 2 different types:
Standard design Mirror TVs (for in-wall or on-wall installation). These TVs are supplied as "all-in-box" set for standard installation and have fixed sizes of the screen and mirror.

Custom design Mirror TVs. These TVs are always made "by project" to fit an exact customer's interior. Mirror glass is made in accordance with the size needed
2. WHICH MIRROR TYPE IS USED FOR MIRROR TV PRODUCTION?
Of course there is no magic but simple physics that made this screen disappearing effect working. There is a special semi-transparent mirrortype used for Mirror TV production, it reflects some part of incident light to obtain mirror effect when the screen is off but transmits the light from the screen hidden behind the mirror surface to let the image be seen when it's on. Check more technical details in item 4 below.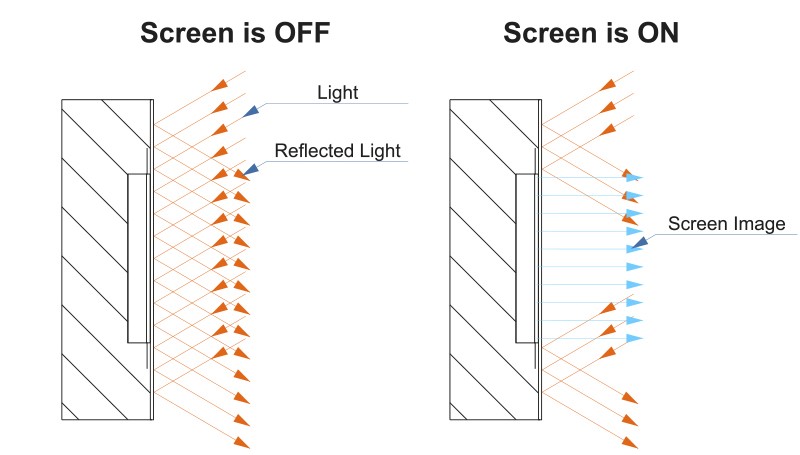 3. WHAT'S HIDDEN BEHIND THE MIRROR?
There can be a regular consumer TV mounted on a frame behind the mirror or a special design TV created for this application only. Consumer TV has lower price and popular interface and remote control type but it's not really designed for this installation type and there are following problems might happen: some parts of the TV can be seen through semi-transparent mirror since it's difficult to fit the frame and mirror back precisely and avoid gaps etc.; brightness of regular consumer TV is very law especially for small size like 19" or 21.5" size. So it's much better to make sure that it's a special TV used behind the mirror. It usually has metal heat dissipation case and sealed to the mirror precisely (waterproof grade is common for this type too). And high brighness LCD/LED panels are selected to keep good image performance even in daylight.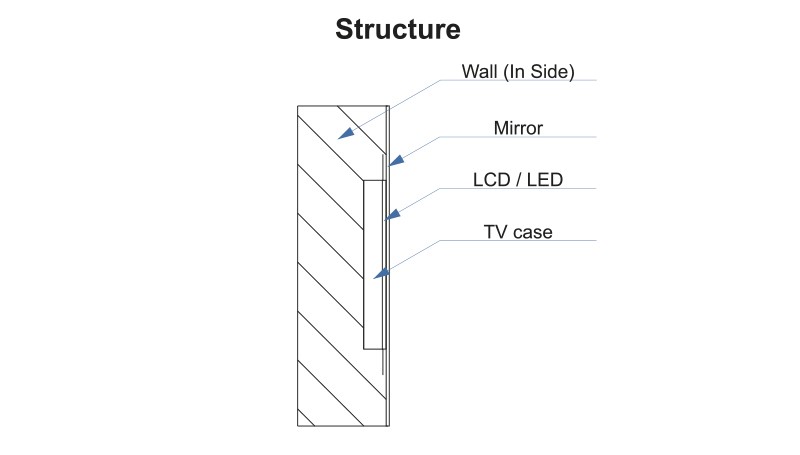 4.TECHNOLOGY BASICS OR THE MOST IMPORTANT TO KNOW WHEN YOU CHOOSE A MIRROR TV
What is really important to know when you choose a mirror tv is the mirror transmission rate (T) or reflectance rate (R = 1- T) and brightness of the screen.

For transmission and reflectance it's always a kind of balance since R (reflectance rate) + T (transmission rate) = 1 so the more reflectance we want for perfect mirror performance when the screen is OFF the less transmission we get for TV performance when it's ON. Normally transmission rate (T) varies from 0,3 to 0,7 and it equals to R from 0,7 to 0,3 conversely.
Brightness of the screen is the most important parameter of the Mirror TV. Let's imagine that we place a regular PC monitor behind semi-transparent mirror with 0,5 transmission rate. Original brightness of the screen is about 200 cd/m2 but when it's placed behind the mirror we only have 50% left: 200 cd/m2 *0,5 = 100 cd/m2. It's really too law to watch TV in ambient day light. That's why manufacturers use the most bright panels for good Mirror TV performance.
But in conclusion, even if you know exact T or R used for the mirror TV production and also know the screen brightness we strongly recommend to check real performance personally (or by video review) to see real working effect. There is one more potential problem when T is high – some parts of internal structure (frame of the TV or internal components) can be seen and your mirror will not look good when the screen is off in reality. And there is also color shift problems happen depending on LCD panel type so the panel parameters needs to be adjusted by factory for the best working effect.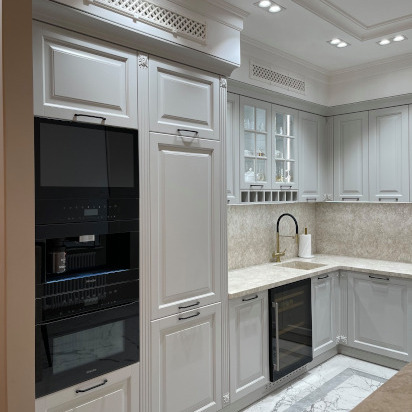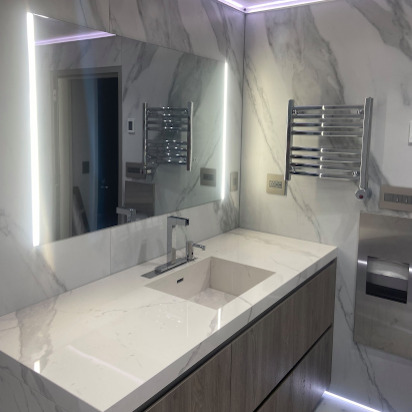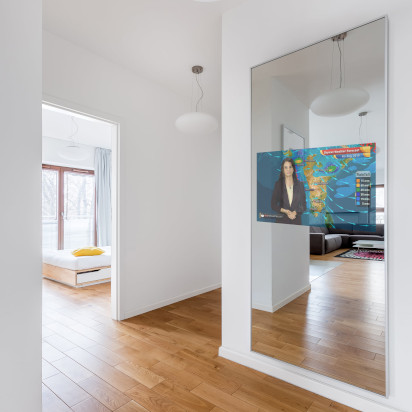 AVEL Mirror TVs
We in AVEL know a lot about this "balance" and now we use different mirror type and different LCD/LED panels for each size for better real performance.
At present beside standard brightness panels we also supply ultra-high brightness panels for special projects (or just optionally by customer's request). Panels with 700 / 800 / 1000 cd/m2 are available in 27" – 75" size range optionally.
A premium product like our Mirror TV shall have premium performance that can only be achieved by using high quality and brand-new technology parts. We always make sure we get the best available panels in the market since it's one of the main parts of any TV.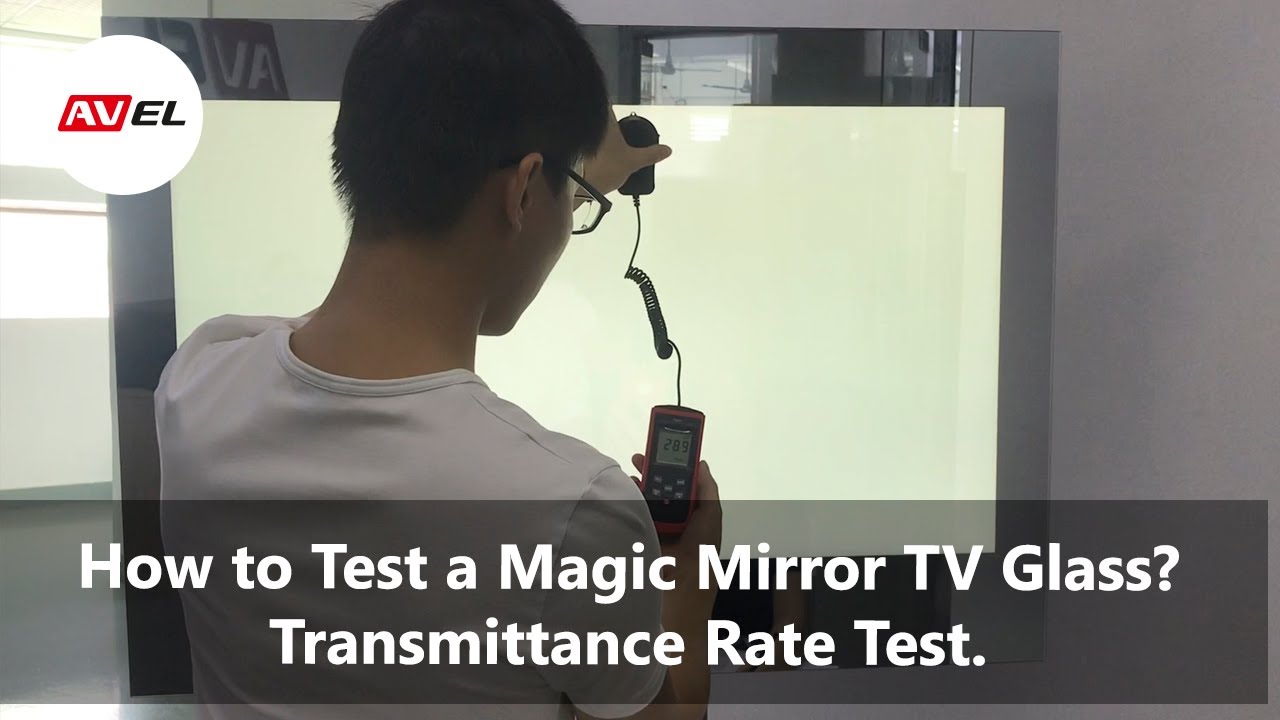 Back to the list