Translate:





Mirror TV Roadmap
What is Mirror TV
Mirror TVs are rapidly gaining popularity in seemingly completely different areas: from living spaces (rooms, bathrooms, kitchens) to hotel rooms, elevators, and shopping malls. But what lies behind this intricate name?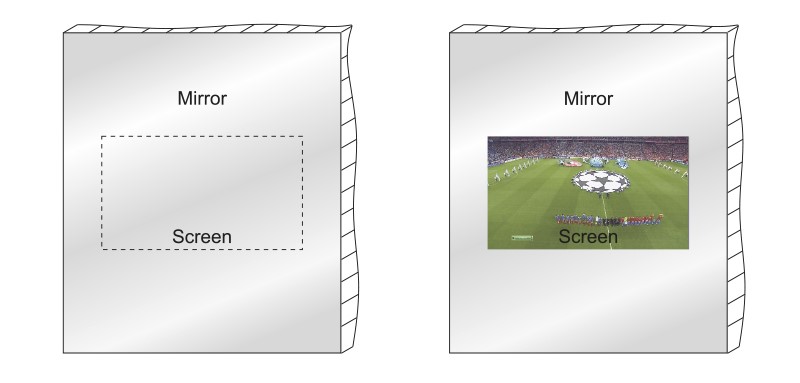 Let's start with the basic facts. First of all, Mirror TV is a screen placed behind a semi-transparent mirror. It looks just like a plain mirror when the screen is off and becomes a TV when turned on. Mostly thanks to such feature this device is also called Magic Mirror TV.
Of course, there is no magic but simple physics that made this screen disappearing effect working. There is a special semi-transparent mirror type used for Mirror TV production, it reflects some part of incident light to obtain mirror effect when the screen is off but transmits the light from the screen hidden behind the mirror surface to let the image be seen when it's on. Follow the link to check more technical details.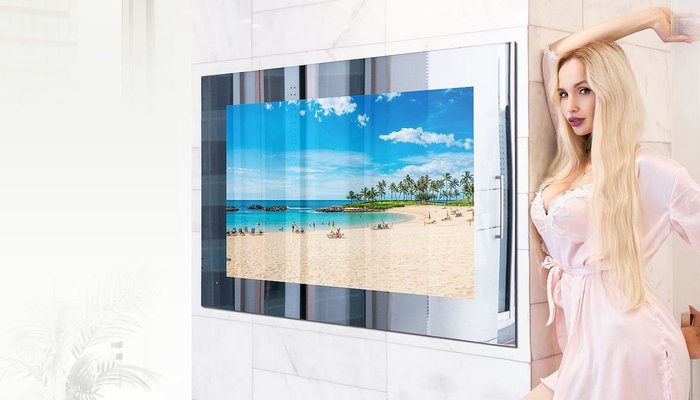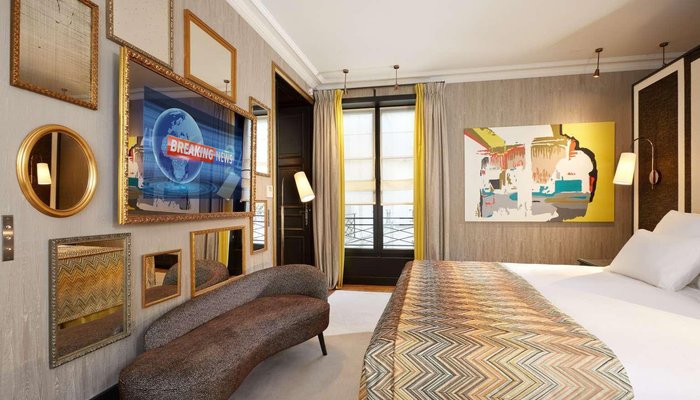 Types of Mirror TVs
We offer two major types of Mirror TVs:
Magic Mirror effect in the classic product line is provided by semi-transparent mirror glass that reflects the light when the screen is off but transmits the light of the screen when it's on. Aviselectronics offers the buyer a variety of TVs with a wide range of diagonals:
23.8"
27"
32"
43"
55"
65"
75"
In addition, customers can choose their preferred brightness of the display, which ranges from 250 to 500 cd/m2. If a demanding customer wants to choose brightness individually, the company is ready to offer models with a brightness of 700, 800, and even 1000 cd/m2.
Open Frame TVs are the solution when there is a need to hide a TV behind a big size mirror. As in the case with the standard model line, customers can choose from any size in the range of 23.8 to 75 inches. Our managers will help you select the proper type and size. Besides, Open Frame TVs are equipped with vibration invisible speakers. Vibration speakers provide high quality full range sound and are completely invisible.
AVEL Open Frame TVs are a great solution for hotel and home interior projects when there is a big size mirror and you want it to have an effect.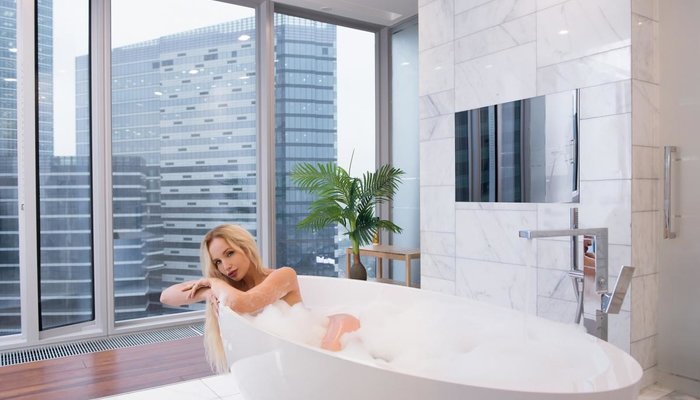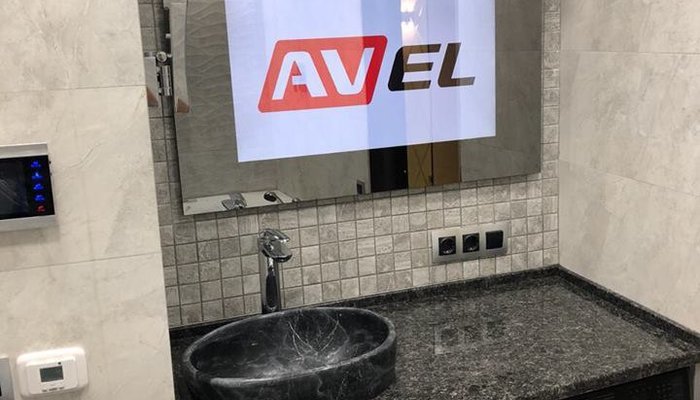 How to Frame a Mirror TV
Numerous customers have already noticed some of the benefits of open-frame TVs and are wondering if it is possible to put a mirror-TV in a frame?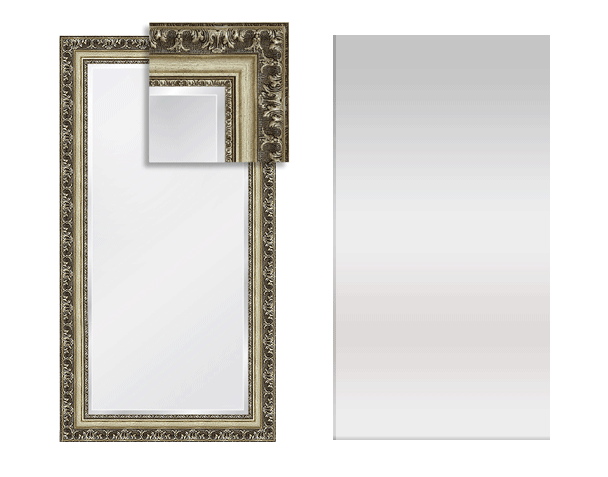 Of course, it is! We have taken care of that, and our team will do everything possible to make sure the customer is satisfied. Any AVEL TV can be framed. Feel free to choose your mirror TV! We will follow your wishes, and the bespoke mirror glass TV will take on an exclusive shape. You can create a memorable interior that reflects your personality. All you have to do is select and purchase a frame and provide us with information on its dimensions - our professionals will do the rest.
How to choose Best Mirror TV
But how do you approach choosing the right appliances that are just gaining popularity and why is it so difficult to choose? When it comes to installing a refrigerator, you can ask for advice from a neighbor, a friend, a relative, or just google it. After all, people have been installing such machinery for years, and it has already become commonplace.
Another thing: a mirror TV. Previously, you could meet such a miracle only in an office or shopping mall, not in an apartment. So how do you choose and be sure you make the right choice? Trust your intuition and the professionals. Decide where you would like to see this miracle: in the bathroom, kitchen, or living room?
Depending on that, use our catalog:
https://www.aviselectronics.com/catalog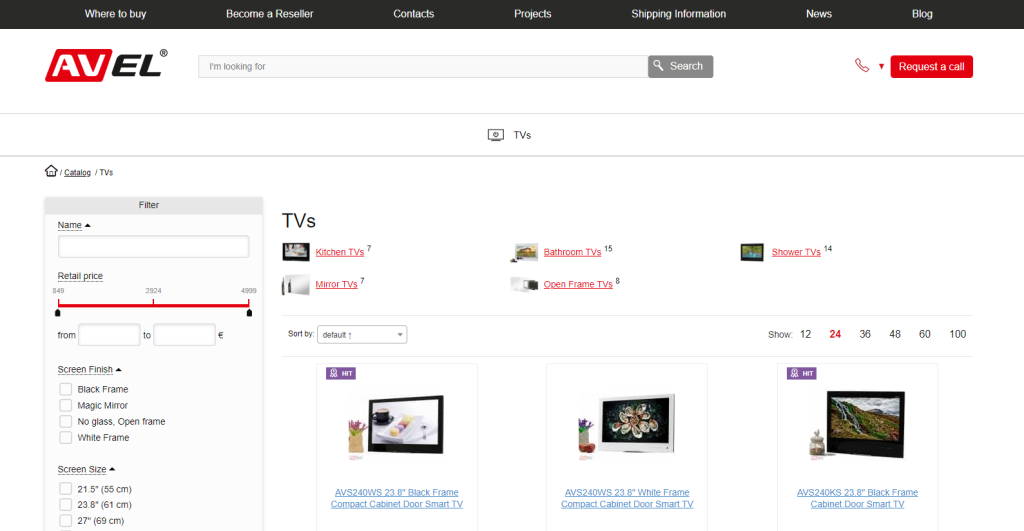 There you can quickly and conveniently choose your new appliance based on key parameters.
How to Install a Mirror TV
Following real demands of our clients and customers we at AVEL keep developing in-wall TV series dedicated not for Bathrooms, Living rooms and Bedrooms.
The greatest and unique benefit of our In-Wall series is completely recessed installation. All you have after the setup is done – is a plain glass or mirror on the wall. No wires, no gaps to gather dust.
So, let's have a look at the installation procedure Step-by-Step:
Each TV comes with a back box that must be assembled first according to the instruction.

When the back box is finished, the size and location of the recess on the wall may be precisely defined. We also include recess dimensions in our specifications, but it's usually easier to stick to the actual sizes on the installation. So, now that the back box is assembled, we can outline the recess on the wall as on the following picture:

After the recess is done, TV cables should be arranged and wired within the wall, and the back box should be secured with dowels, screws, or other fittings appropriate to the wall's design. It's critical to secure the back box on the side and back, as well as to keep it flat and free of twisting and bending:

Now that the back box is in place, we can connect the cables and mount the TV. A waterproof cover protects the I/O ports of AVEL in-wall TVs. If the TV needs to be installed in a bathroom, pool, or other high-humidity environments where water might be splashed on it, it is necessary to properly fit the cover once the wires are attached, and we also recommend using silicone sealant to prevent water from getting into the recess. However, if the TV is being installed in a bedroom or living room, there is no need for silicone, and the rear cover can be removed as well.
The screen is fixed well and may be dismantled for cable replacements or service if necessary. It's also perfectly flush mounted without any gap. Looks great and works like a charm, enjoy Your AVEL TV!
Back to the list