Translate:





Where is the best place to put TV in a small kitchen: flip down or under cabinet?
Kitchen TV is a popular and convenient solution for modern apartments. Of course, only few people want to eat in silence or go to other rooms with full plates. It is much more convenient to watch news or interesting movies combining it with eating or cooking food. You may install a regular big size TV if your kitchen is big and / or combined with the dining room. But what if the kitchen is compact? Let's figure it out and give recommendations.
What do you need to know about choosing TV for a small kitchen?
Choosing a TV for a small kitchen, you shall consider the installation way and location and consider a small or medium size TV. For more accurate parameters, you need to focus on the size of the room and its configuration. To keep your eyes from getting tired, experts recommend keeping a distance between the 32 inches screen more than about 9 feet. You can install small TV models with a diagonal of up to 24 inches at a shorter distance, up to 5 feet. It turns out that for kitchens with an area of up to 90 sq ft, a TV of a size of up to 24 inches will be the best choice and 32 inches or more for the area bigger than the 150 sq ft.
How to install the TV saving space
Traditionally, to save space in the kitchen, the TV is hung on the wall at eye level or slightly higher. Holder is installed on the TV, and a bracket with which the installation takes place is mounted on the wall. This method allows to free up space on the worktable or on the shelf, but takes up space on the wall. This is not always convenient, especially when there is a need to place more wall cabinets. And that installation way doesn't look good considering kitchen design. The solution will be the use of modern technologies which make it possible to install televisions, combining it with pieces of furniture and household appliances.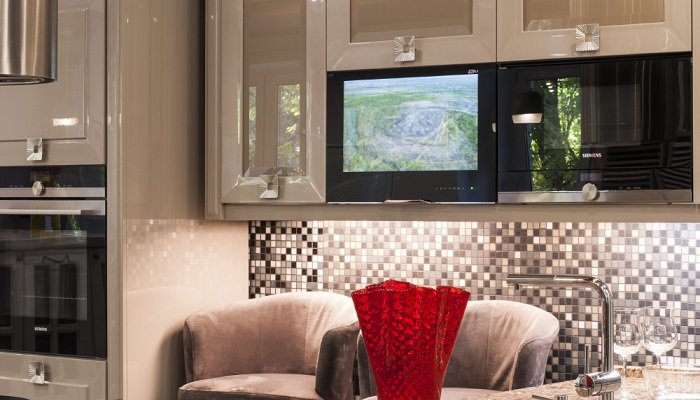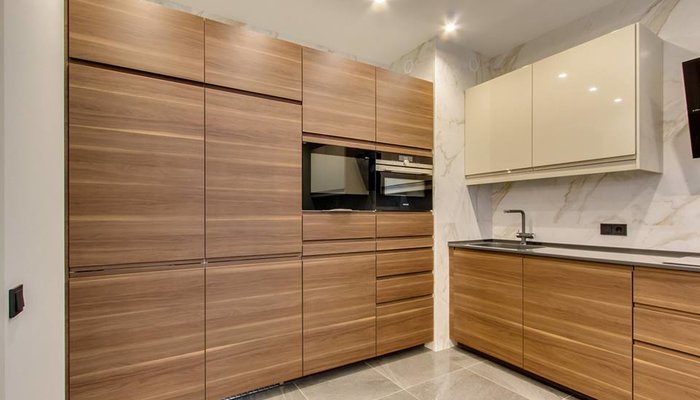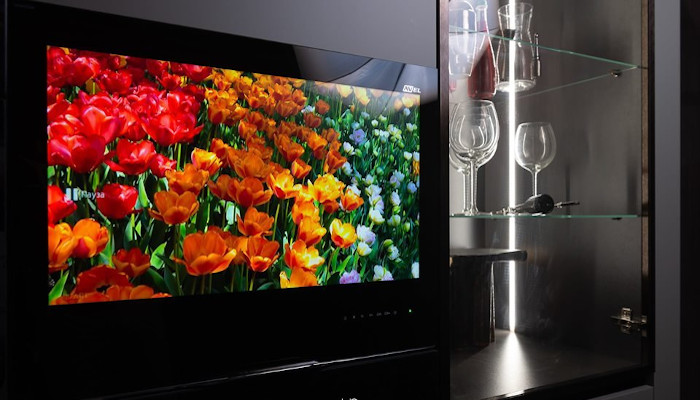 Flip down TV
Flip down models of televisions can be installed in most of the kitchens, even when the kitchen is installed. It's considerably simple to hang it on under a cabinet. The TVs are low weight and small thickness usually, so they are not seen when its folded. What's not convenient – the screen size is limited since the depth of the upper cabinet is always not big. So, all existing models in the market are really small size (15-21"), and user shall always "open" the TV each time to watch it. One more negative issue - is that the TV screen usually blocks the worktable area partially when it's open. So the market trend for this type of product is declining, there are just few models which seem to be discontinued.
Cabinet Door TVs instead of Under Cabinet TVs
Cabinet Door TVs instead of under the cabinet save space best of all because they are installed instead of the kitchen cabinet door. It's a modern and trending kitchen solution, TV can now be perfectly combined with other kitchen appliances or installed in any top cabinet section. Depending on the design, you can choose models with a white or black frame or with a fully mirrored surface. Sound speakers are located behind the glass and transmit clear and high-quality sound from the screen. The storage space in the cabinet, located behind the TV, can be used, because the TV is mounted with special hinges, and can be opened like a regular cabinet door. The kit includes two remote controls, one of which is protected from moisture.
Comparing the options
Flip down models are easy to install (even if your kitchen set is already completed), it's not noticeable in the kitchen and fits almost any kitchen. But flip down models are small and out of date, most of the vendors stop producing it. Cabinet Door TV is much more attractive solution, it's modern, have bigger screen and it's a great design benefit for. But you always shall think about the TV installation when you order your kitchen set. It's hard or impossible in most of the cases to add that TV after the kitchen set is installed. This is the only limitation, so don't forget about Your great new Cabinet TV when you plan your kitchen!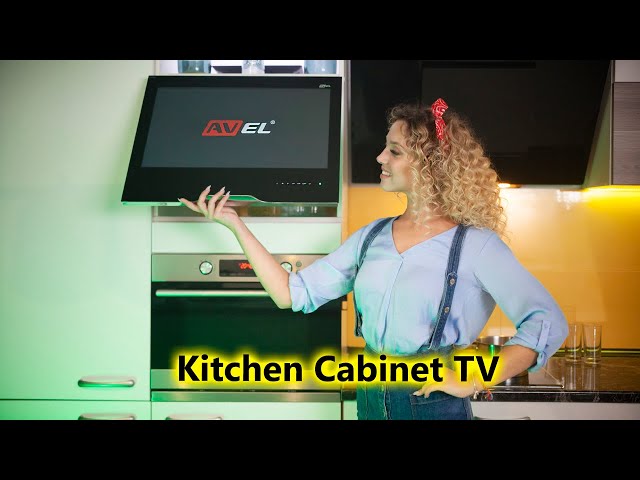 Back to the list