Translate:





Waterproof TV or Waterproof TV Enclosure?
Whether you have an idea of getting a TV in your bathroom, pool, sauna or any other facility, or you are planning to install a TV outdoors, there are 2 options available: Waterproof TVs and water-resistant TV Enclosures. Let's take a closer look, what advantages and disadvantages each of them has and what's best to choose.
Waterproof TVs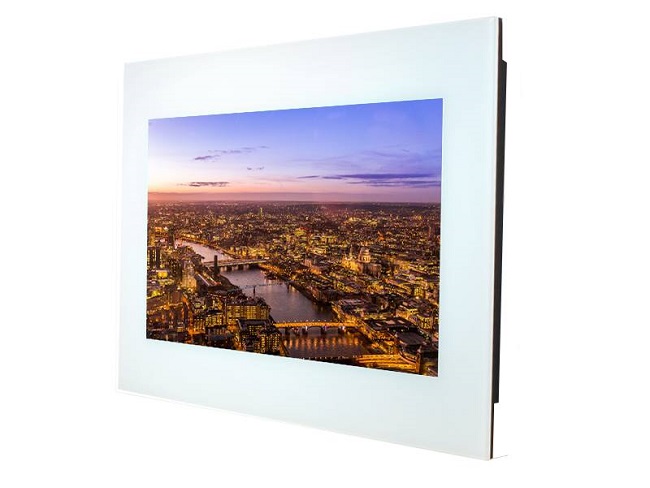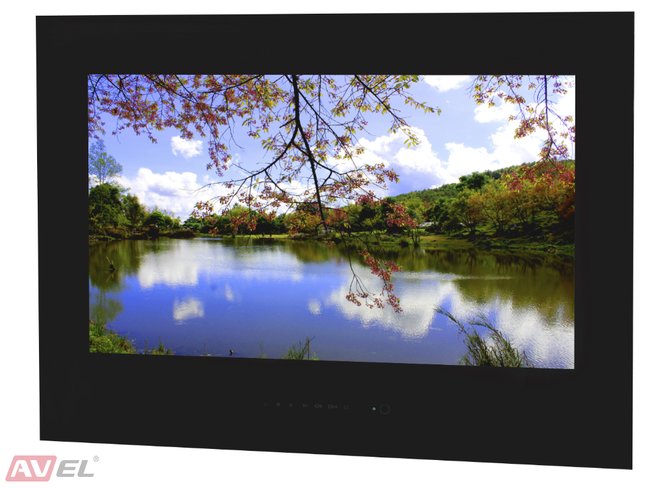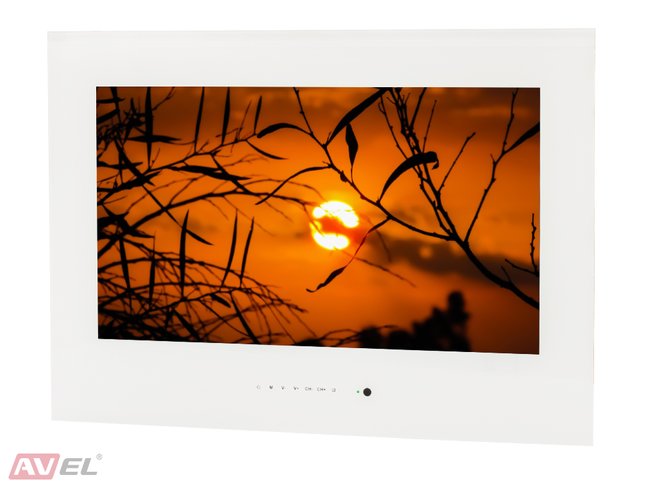 This kind of TVs has been designed for being used in the areas where water jets, rain or steam can easily get on the screen. Normally they have IP or NEMA dust/waterproof ranking certificates. For example, AVEL Water-resistant TVs have thoroughly passed the international CE and ROHS EU certifications and have been assigned the IP54 rating, which confirms that they can be safely used in most areas being dust- and water resistant. The products comply with European standards and requirements to TVs and other consumer electronics.
Waterproof TV cases are usually made of glass in the front and metal or plastic in the back part. Speakers must be waterproof as well, that's why manufacturers use water resistant speakers or resonance / vibration integrated speakers. The latter are fixed on the inner glass surface inside the TV case and generate sound through making the glass into a speaker, duplicating the sound waves over and over through the surface giving you a fuller and richer audio experience. Constructionally it means there are no holes at all which adds not just to a stylish look but also to a higher degree of safety. Thus, apart from advanced and reliable technology you also get smart and modern design.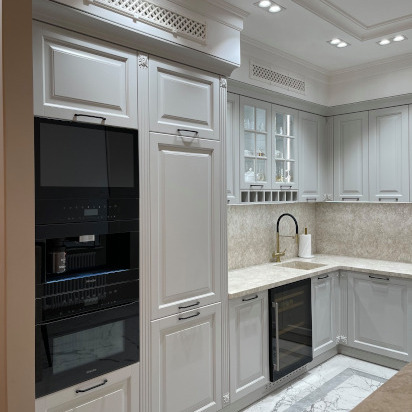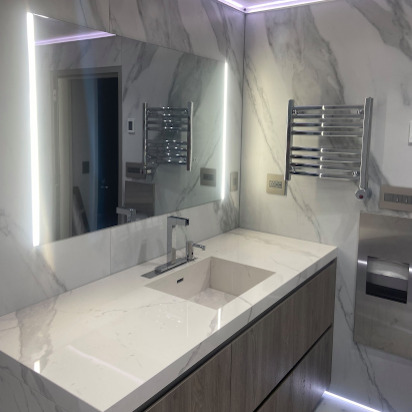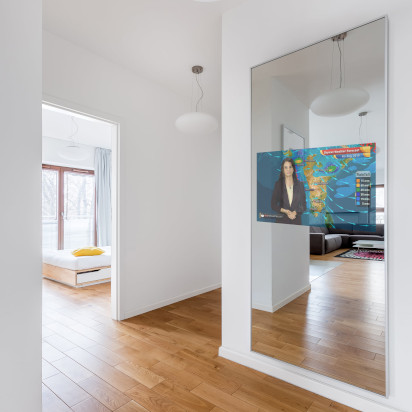 If you want something even more impressive, we suggest that you have a look at a new increasingly popular trend of the so-called "Magic Mirror" waterproof TV design, meaning the screen disappears when the TV is off and there is just a plain mirror on the wall. You can forget about "black spots" spoiling your sophisticated interior.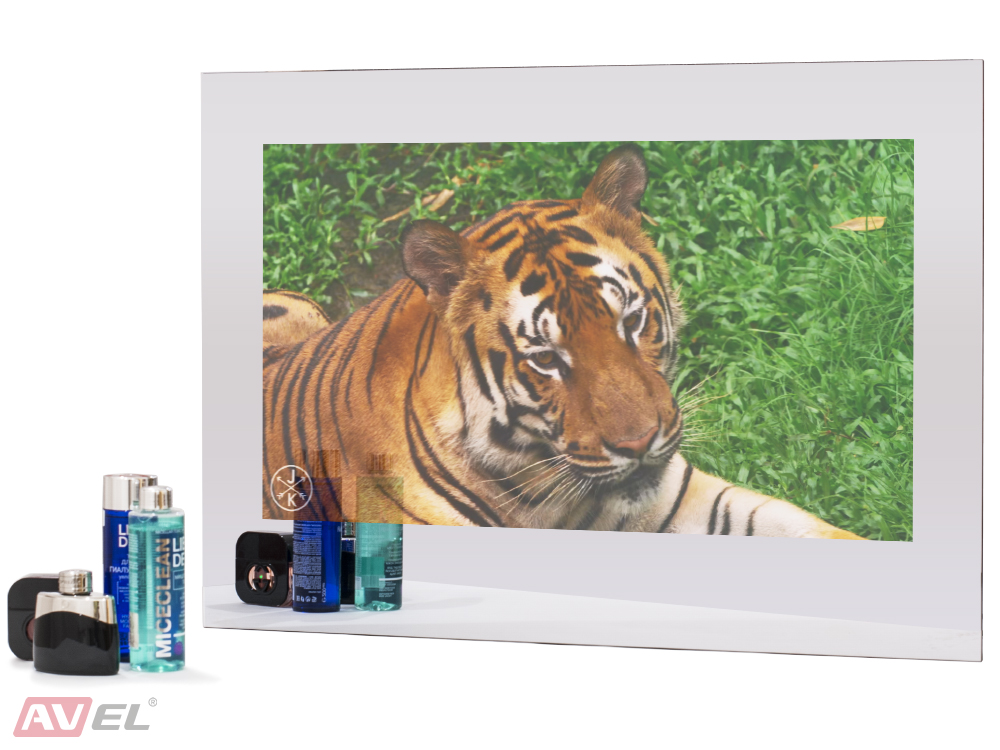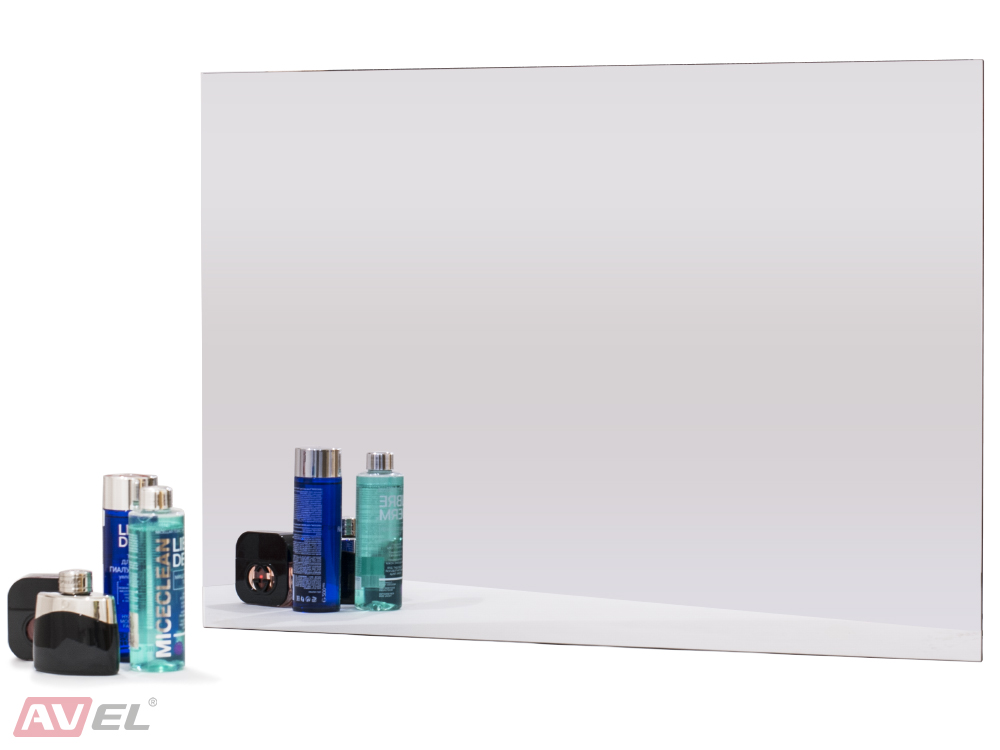 Construction of Waterproof TVs is also different, depending on the suggested application scenario. Outdoor TVs are more robust and usually installed on a wall or some mount as a standalone unit. Indoor waterproof TVs for bathrooms, pools and sauna are usually in-wall integrated and require professional installation. The special back box is installed into the prepared opening in the wall, then the TV itself can be inserted and sealed. However, the back panel still remains detachable and can be easily opened without special tools when needed by the customer. As a result, you get a TV that looks like a slim glass with no wires, no bulky box and no gaps to gather dust in the future. Such TVs are easy to wash and maintain.
Technical features
Waterproof TVs are mostly provided tempered glass meaning such displays possess higher strength compared with ordinary glass. Also significant is that, when broken, such glass crumbles into the smallest granules instead of shattering into dangerous and sharp pieces that easily cause injury. As to audio and video hardware, the customers can choose among various characteristics such as acoustic power, amplifier output, screen size and resolution (Full HD or 4K). All devices are naturally delivered together with waterproof remote control.
This sort of TVs represents the so-called "special" product in terms of marketing. What's great for the customer is that after order he gets an all-in-one device that is fully adapted for the intended application. But since the demand of special TVs is limited worldwide that's a kind of "niche" product. That's why prices of waterproof TVs are considerably higher when compared with regular consumer TVs and technical specification is simpler as well. For a small waterproof TV cost start from $800.
Waterproof / water-resistant TV Enclosures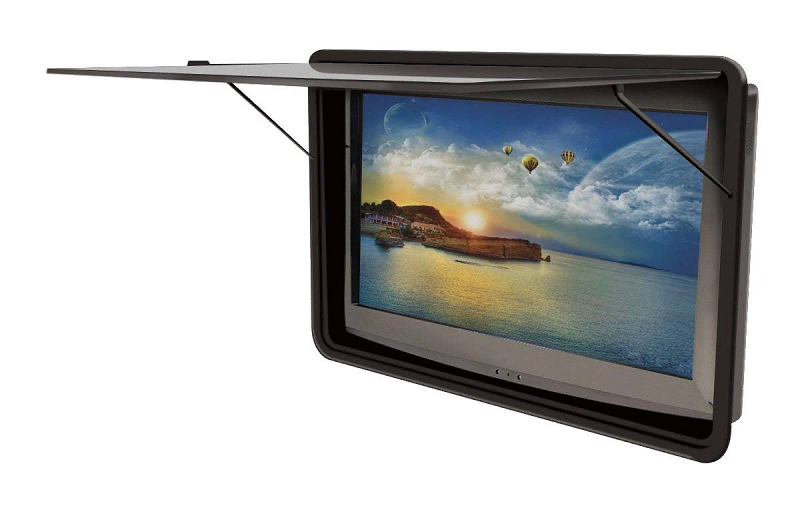 TV enclosures are made to protect regular consumer TVs and universal for a specified screen size range (e.g. 43"-50").
Front shield is made of glass and it can be opened for access to the TV (installation / maintenance etc.). Back part is made of plastic or metal. There is usually a VESA universal mount inside to fix the TV itself and a cable management system to lead the connections.
Some manufacturers provide cooling fans or heaters optionally. Enclosures can optionally be equipped with secure locks and have shockproof protection too.
What's good about enclosures – is that you can just put any TV inside, for example, your old one without having to buy a new model. It's also not very expensive and its installation is quite easy to perform even without special skills.
But there are some negative issues we shall mention:
it's thick and bulky

picture quality will be inevitably reduced by the front glass, besides, the gap between glass and TV screen is quite big – don't expect much modern design

there is usually a problem with sound quality since TV speakers are almost closed

it's much more difficult to maintain, clean etc.
So, to summarize 2 solutions:
Waterproof TV

Water-resistant TV Enclosure

PROS

CONS

PROS

CONS

Made for the purpose" product

Not universal, simple in spec.

Universal, fit many types of regular TVs

More difficult to install, 2 products actually (TV + enclosure)

Good, specialized design

High price

Not expensive

Bulky, thick, big frames

All-in-one product with warranty and documentation

"Niche" product, limited sellers and service centers

Cooling, heating options

Poor sound quality
Back to the list