Translate:





TV in Mirror – DIY. How to Make a Tailor-Made Mirror TV?
There are many scenario and projects when people want to put a TV behind a mirror. And in many cases the mirror is big and customized to fit the exact placement. In this article we will talk about 2 possible options and consider PROS and CONS of both.
1. Put a regular TV behind a semi-transparent mirror. Actually, it's the first idea that comes to one's mind most often. And it's possible to make that installation, here below the issues to be considered: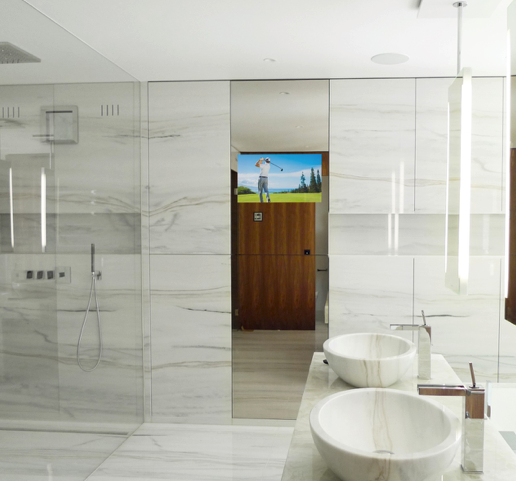 TV fixation. There should be a cavity (niche) prepared or a frame made to fix the TV behind the mirror. Most of TVs in the market has VESA wall mounts on the back – just make sure which size (standard) it has and follow accordingly.

Internal light reflection issue. To make sure that semi-transparent mirror will work fine and there will be no lights seen through it you shall make sure there will be no lights at all behind the mirror (beside the TV screen area). The best option is to paint all the back surface of the mirror with black painting and just keep TV screen area blank. And it's also very important to put the TV closely to the mirror. If not – there will be reflected light inside, and some parts of the TV or structures inside will be seen through the mirror. Additionally, you shall make sure there will be no light coming from sides of the mirror (direct or reflected ambient light).

IR control issue. When the TV is hidden behind a mirror – it's very important to check if IR remote control still works well. IR signal is reflected partially by the mirror, and if the receiver is hidden or directed downwards (not to the front directly) IR signal could not work well. The best solution is to use 2.4 GHz BT remote control that can work well through any mirror and has voice control option for instance, so consider this point as an important benefit when you choose a TV for the project.

Screen Brightness. Depending on the exact optical parameters of the mirror that was chosen for the project – you shall make sure that the TV screen brightness will be enough. For example, if the mirror reflectance is 70% - it means that the original screen brightness will be reduced by 70%. And if it was 350 cd/m2 (nits) in the TV spec – than you will just get 350*0.3 = 105 cd/m2. It's too low and you will not be able to see a good picture. The final brightness must be at least 200 cd/m2 which is equal to a regular PC monitor brightness for reference. So, we can only advise to pay attention to the brightness and choose the TV with high bright panels. At the same time when the brightness is too high – internal reflection is increasing, and since there is always small gap between the mirror inner surface and LED panel surface one can see it when looking from aside. It's like double or triple image sometimes, depending on the mirror type. Special measuring tool can be used to simplify the tests and it also very important to test a real mirror sample and a real TV sample before the installation. If there are several mirror types available – we also suggest trying different options to see which combination will give the best result.

Sound issue. When the TV is hidden behind a mirror – internal speakers will not work. That's why it's important to think about external speakers or special speakers beforehand. The are following speaker types that can be used: in-wall speakers, ceiling speakers, hidden speakers on the side of the mirror (depending o the project), hidden vibration (resonance speakers) fixed on the inner surface of the mirror. We can't recommend one of them and just may say that all the options can be used and can sound well when done properly.

Water / Steam protection. If your project is related to bathroom, pool area or other high humidity location you shall be aware that none of consumer TVs can work for a long time in a humid room. Only special TVs with waterproof enclosures are suitable in this case.
2. Special TVs (designed for installation behind a mirror). Yes, that kind of product exists in the market and it can solve all the issues / problems mentioned above. We were developing our Open Frame series based on real projects and real feedbacks from our partners. That's why we are sure it the best alternative for those how's looking for a professional and high-quality product for a customized Mirror TV projects. Beside the product itself we are happy to give our recommendation about the mirror type that can work great and share our experience.
The table below shows the PROS and CONS of a consumer TV installation vs special integrated (Open Frame TV) installation behind a mirror:
Consumer TV installation behind a mirror

Special Integrated TV installation behind a mirror

PROS

CONS

PROS

CONS

Low budget – consumer TVs are not expensive

Difficult to integrate, a lot of issues to take care of (mirror inner surface painting, internal reflection, sound, IR control etc.)

Ready for installation solution. Easy to install, easy for maintenance

Higher budget, the TV is more expansive. But it will reduce installation costs and time spent for the project.

Standard UI and remote control – people are used to run popular TV brands

Hard to choose the right combination of mirror and TV parameters

LED panel parameters and mirror optical parameters are known.

No water or dust protection

Water and dust protection

Hard to replace with another model if the TV is discontinued by vendor.

Easy to replace, can be made in any customized size
Back to the list