Translate:





Special Mirror for Mirror TV, Dielectric Mirror for Touch Mirror TV / Smart Mirror
History
The first materials used for glass mirror production in the first century CE were metals (lead, tin, silver, gold, mercury). А piece of glass was coated with a thin metal leaf in the back. Technology of glass and mirror production was evolving in the Middle Ages to make the mirror surface big and smooth, glass more transparent and metal layer brighter and more reflective. One mirror type, well known as Venetian Mirrors by the 16th century, was coated with a tin-mercury amalgam, and the mercury was then evaporated by heating the piece. Venetian Mirrors in luxury frames served as superior decorations for palaces throughout Europe. Nowadays mirrors are produced similar way, of course it is more efficient and does not require harmful mercury evaporation process. Mirrors are often produced by the wet deposition of silver, or sometimes nickel or chromium (the latter used most often in automotive mirrors) via electroplating directly onto the glass substrate.
Regular Household Mirrors
The mirrors we all use daily has its metal coating in the back of the glass. Glass in the front protects the thin reflecting layer from scratches and mechanical impacts and the coating is also protected in the back usually from abrasion and corrosion by a layer of paint applied over it. So the regular mirrors can serve at home for many years unless it's broken occasionally.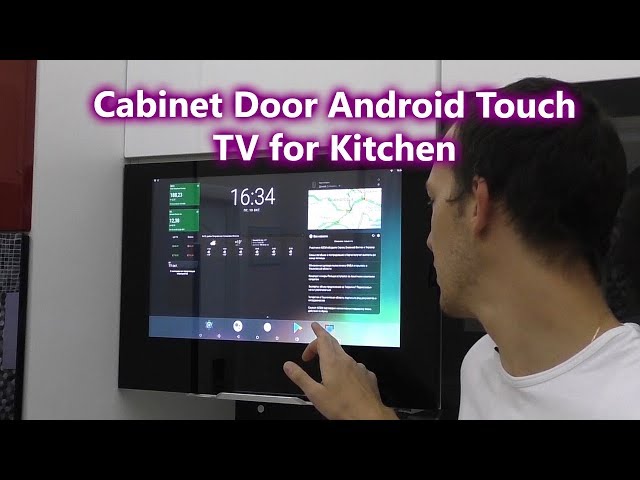 Special Mirror for Mirror TV
There are special requirements to mirrors when we consider Mirror TV product. Beside bright and even reflectance which is the most important parameter for regular mirrors we shall keep good transmittance in the screen area to be able to see the image when the TV is ON. The higher the reflectance is - the lower the transmittance. Transmission coefficient (T) + reflection coefficient (R) = 1 as we know from optics. Finding the right balance of T and R is very difficult and important part of making the perfect Mirror TV. We in AVEL use Silver Mirror type (40% (T) and 60% (R)) for all regular Mirror TVs and we have dark Graphite Mirror (25% (T) and 75% (R)) for projects with ultra-bright screens.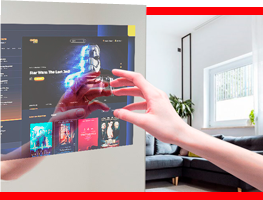 The second important difference from regular mirrors is that the reflecting coating of the mirror for good Mirror TVs is in the front face (not in the back) to make the reflectance brighter. The light does not have to cross the glass twice. All AVEL Mirror TVs has mirror coating in the front of the glass for the best mirror performance and good screen visibility. In all our TVs we use special dielectric composite coating, it has great optical parameters and quite resistant to mechanical damages and scratches. Big advantage of these mirrors, also known as Dielectric Mirrors, is that they can work with modern capacitive touch screens.
The third issue we pay high attention to is the safety of our TVs. Regular mirrors are made of non-tempered regular glass mostly. In furniture elements mirror can be glued to the wooden back plate and quite hard to break. In all our TVs we use tempered safety glass. This kind of glass is treated with high temperature to became more tough and breaks to small non-harmful pieces in case of damage. This temperature treatment can cause a slight distortion in the reflection on the sides of the TV, but despite this small negative issue we are still sure it is more important to be safe. Some of the Mirror TVs are installed in bathrooms with slippery areas close to the screen and kids who play nearby.
Touch Mirror TV / Smart Mirror
Projects and applications of Touch Mirrors, Smart Mirrors and interactive mirror screens are growing rapidly. It a great design concept and practical benefit to use mirror surface as a touch screen at home, in a beaty salon, fitness center etc. What is very important technically to make a perfect Smart Mirror is all what we mentioned above for a Mirror TV, and additionally there is a touch screen. In our projects we use transparent, very precise, and multi-touch Capacitive screens fixed in the back of the glass. Capacitive touch can only work with Dielectric Mirrors and our mirrors are 100% suitable for Smart Mirrors. We use powerful modern Android boards in our Touch Mirror TVs, it's very flexible and suitable both for consumer needs (like a large tablet) and for commercial projects with pre-installed APPs.
Back to the list